There is a saying that misery loves company and that seemed to be the case as The Twilight Sad performed to a sold out Scala.
Despite the packed venue, lead singer James Graham is quick to tell the London crowd that "this doesn't happen to us". Their music may be perpetually unhappy, but this felt like a performance that was full of elation from a band that have obviously been on the verge of splitting up.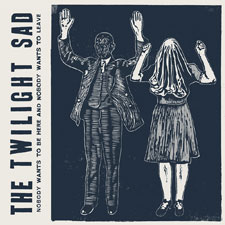 Nobody Wants To Be Here And Nobody Wants To Leave was the album that turned The Twilight Sad's fortunes around, receiving critical acclaim, including the recent announcement of it being on the longlist for the Scottish Album of the Year (SAY) Award. This Glasgow-based band's journey has not been without its struggles and, as Graham notes, it has been the result of "ten years of hard work" although "it's worth working hard for something if you believe in it". Many people in the crowd may have been surprised to hear just how long this band has been around, having only discovered them recently through the new album. Whilst there was obviously a large contingent of fans who had been with them on this journey from the start in 2003.
They may have been doing this a long time but it seemed to take them a couple of songs to really relax into the set with Graham's vocals sounding slightly constrained for openers There's A Girl In The Corner and Last January. His voice returning to its soaring best for That Summer, At Home I Had Become The Invisible Boy and the "happy times" of Drown So I Can Watch.
The song titles indicate what you're in for with this band – they certainly aren't the cheeriest chaps! They capture a dark, post-punk sound with ominous lyrics wrapped up in an emotional performance. It would be quite easy to call their music samey as each song has the same melancholy but anthemic delivery. However, what they do in general feels different to everything else I'm seeing and hearing at the moment and a huge part of this is how Graham performs. His distinctive voice, full of his Scottish accent (where some vocalists lose theirs), is used as an instrument along with the surging guitar and keyboards. When he's not singing he moves around the stage like the music is coursing through his veins: spinning; crying out; falling to his knees. I actually start to worry about how he survives when he leaves the stage, when the music stops.
In between songs he seems genuinely overwhelmed by the reactions of the audience who obediently, and loudly, sing along to Cold Days From The Birdhouse. This was their largest London crowd to date with Graham saying "we played this place maybe four years ago, 5 years ago, and there was about nobody here. About nobody. The fact that we came back from the brink and now this is happening for us means a lot to us".
I can't imagine an empty venue is something they will ever experience again, judging from this impressive display, but they are obviously self-deprecating enough to worry about it. When Graham, after receiving the appreciative applause and cheers following a soaringly beautiful performance of The Wrong Car, hesitatingly asks "so if we do this again, can we all come back again?" the reaction from the Scala says it all. It says that, as The Twilight Sad are here to stay, they'll all return to enjoy some collective, and somehow uplifting, misery.
Set list
There's A Girl In The Corner
Last January
That Summer, At Home I Had Become The Invisible Boy
Drown So I Can Watch
I Became A Prostitute
Seven Years Of Letters
In Nowheres
Leave The House
Alphabet
It Never Was The Same
Nobody Wants To Be Here And Nobody Wants To Leave
I Could Give You All That You Don't Want
Nil
Cold Days From The Birdhouse
The Wrong Car
And She Would Darken The Memory
Visit The Twilight Sad website